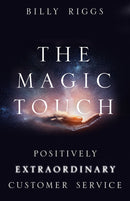 Description
Newly-published The Magic Touch reveals twelve ways to dazzle customers with positively extraordinary customer service
Billy Riggs, a corporate magician with two masters degrees, has published his latest book which challenges the old ways of customer retention and shows that all business is truly show business. It is customer experience reimagined, taken to a whole new level. The book is written to be enjoyed by individuals or shared with team members for collaboration and discovery. Billy also includes in-depth discussion questions in each chapter to help teams peek behind the veil to ignite their own professional brand of dazzling customer service that will grow clientele to a whole new level.
Successful businesses know that the most effective and least expensive way to distinguish a company from the competition is to provide dazzling customer service. Attempting to differentiate yourself from your rivals by slashing prices usually sacrifices profits and drives competitors to do the same. Improving quality is important, but is often incremental and therefore invisible to consumers. However, riveting and memorable encounters with customers linger in their memories and transform them from mere shoppers into enthusiastic advocates for your business. Discover the twelve ways you can dazzle your customers, and learn specific techniques you can put to work right away as author, motivator, and speaker Billy Riggs reveals the secrets of rendering The Magic Touch. 
Billy has spoken to audiences in excess of 10,000 in five continents. He was voted the Most Entertaining speaker in America and captivates audiences with his customer service training seminars with a fun and inspiring twist. He is an innovator who helps individuals and organizations go beyond improving normal customer interactions to inventing a dazzling approach to the customer experience.
Good is no longer good enough; it's time to DAZZLE!
 Please note, when you order the ebook you will be downloading a PDF or an ePub format that is readable on any device that supports the chosen format. After checking out, you will receive an email with instructions for downloading your ebook. 

Adobe Reader software may be downloaded for free at this site.
For Kindle and Paperback click HERE 
Payment & Security
Your payment information is processed securely. We do not store credit card details nor have access to your credit card information.