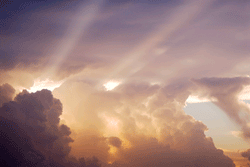 Just because you can't see your end goal right now, that doesn't mean it's not there. Don't think because your desires are obscured, they've vanished. Respect yourself enough to know that you are meant to be in the position you are in. Realize that clouds come over every person's head. Rejoice that your victory remains yours to claim no matter how overcast the future appears. The clouds of life are merely incidental reminders that no matter what comes over our heads, it is what's inside that matters most and will always shine through.
I've gone through some tough times in my life, every single stressor imaginable: death, divorce, war, moving; I've been served, sued, betrayed, dum...
Do you find yourself lost, adrift or even facing a mutiny at work? Do you fear your bosses are about ready to make you walk the plank and feed you ...