Throughout my leadership journey, I've heard one constant refrain--people are your greatest asset because they have within them the mind, heart, and spirit to do great things. Having worked with thousands of individuals over the past forty years of my professional life, I used to think, "well, that depends on which people you're talking about." Which brings us to the genuine question, is there an innate great encoded in every single human being? Do we have the seeds of success embedded into our DNA waiting patiently for the trigger that causes them to begin manifesting? I used to think the answer was 'no,' but now I see it is 'yes.'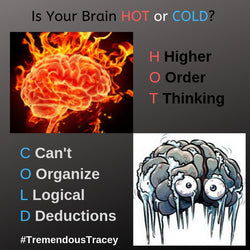 The brain is one of the busiest (second only to the liver) and the laziest organs in our entire body. Our brains tend to focus on things which make it feel good, keeping us in our comfort zone. If your brain is left unstimulated, it results in a condition known as lame brain or dull skull, both of which fall into the untremendous category.
Mark Twain said the two greatest days in a person's life are the day they're born and the day they find out why. Seeing as the first day happens re...