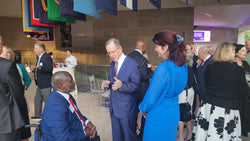 Last month, I had the honor of serving as the Master of Ceremonies at a distinguished event held at the National Constitution Center in Philadelphia. The gathering brought together 150 leaders and supporters from both the military and the financial services sector to confer the highest honor upon a Soldier-Citizen who exemplified leadership and service both in and out of uniform. The convergence of these two significant aspects of my life, the transformative impact of the military on my professional journey and its influence on my father's life insurance career, filled me with joy and pride.
We often read poignant letters from a parent to a child, an elder to a junior, a husband to a wife. These heartfelt notes contain the most importa...
Our country was founded on the declaration that all men have certain inalienable rights: life, liberty and the pursuit of happiness. I would like t...